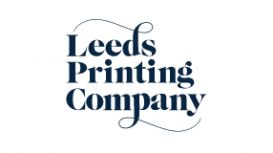 We are a customer-focused printers in Leeds. At Leeds Printing Company we pride ourselves on high quality, low cost print and design. Amazing products like flyers, posters, business cards, stickers and brochures.
We combine this with the highest level of customer service – you will be able to speak directly to one our team at any time during your order. We love what we do, and want you to love what we do too. You can trust us to be the best Printers in Leeds.
Services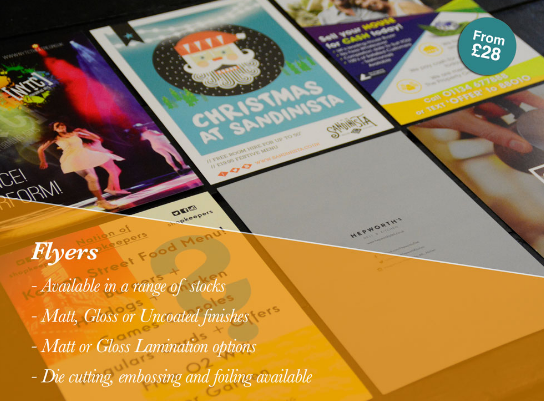 A well-designed leaflet or flyer can make or break the success of your advertising campaign. Not just for advertising new businesses, products or services, leaflets and flyers can also be effective in developing wider brand awareness by keeping customers aware and up to date with the goings on of your business.
At Leeds Printing Company our aim is to make sure you are happy with your flyers all the way from design to print. We offer 5 different stock weights of leaflet & flyer printing, our deluxe flyers are printed on 350gsm to provide the highest quality finish to your design and durability that allows the flyer to be used over and over again I needed. In addition, we offer a 250GSM and 170gsm stock for flyers which is available on matt or with a gloss finish. These premium flyers offer the perfect solution for party invitations, admission flyers or direct mailing campaigns. Finally, our everyday flyer, lithographically printed on 135GSM stock makes it the perfect option for trade shows, leaflet campaigns or nightclub/bar use. We also provide a 350gsm uncoated flyer for a slightly textured feel.
The stocks listed above are our most popular options for flyers and leaflet printing, however we can print on different stocks if needed. We can also offer bespoke sizes and folds, just contact us to discuss your requirements.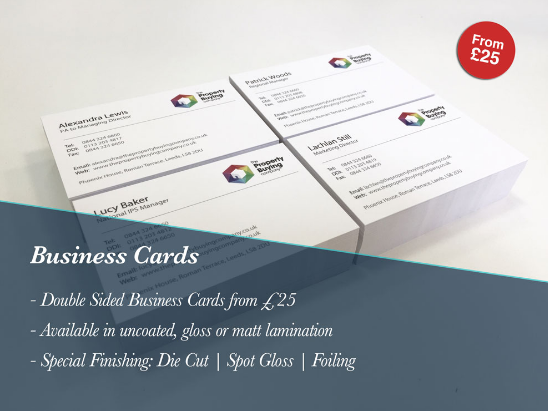 Business card printing is very important for networking and marketing. Your business card speaks volumes about you and your business so it is important it portrays quality and personality. You don't want to turn up with a flimsy card that is ill-thought out in terms of content and design, it will leave a first-impression that you wouldn't want.
The most popular cards from Leeds Printing Company are our Matt Laminated Business Cards. These are on a beautiful 400gsm stock and finished with a matt lamination on both sides. For a little extra, we would recommend our 450gsm Soft Touch Business Cards, they have a wonderful velvet touch which are a joy to hold and feel! If you require un uncoated card, perhaps for use as a loyalty card or to to suit your brand, then order our 350gsm Uncoated cards.
If you have more than 1 person needing business cards, then take advantage of our Multi-Name Business Card printing offer for significant discounts on 2 or more sets.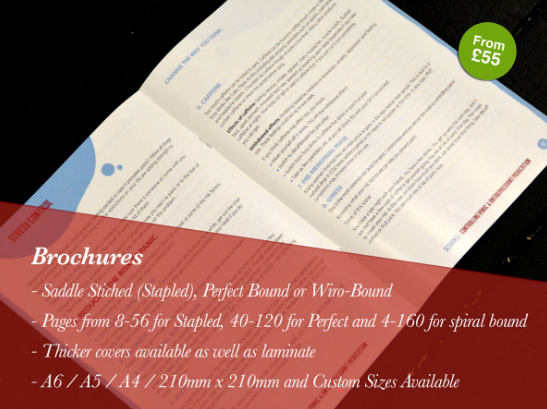 Not sure how important a Brochure can be for your business? When meeting a client to discuss what you can offer them, it is often difficult to remember everything you would like them to know, and from the clients point of view, often very difficult to remember everything you have been told! Having a brochure full of information for the client to take away is a great way to make sure they are clear about what your business has to offer. Keeping a brochure full of all your products at hand is very useful as even in a digital age there are still consumers that prefer not to shop online.
Here at Leeds Printing Company we offer many different stocks for your brochure to be printed on. 170gsm Silk stock is the most popular as it is not too lightweight but also allows pages to be turned easily. If your brochure is going to be flicked through very often it might be of benefit to you to consider the most durable stock options such as a heavier gsm, a thicker cover or a Matt Laminate cover.
Reviews and Ratings
Extremely good customer service and always high standard. Wouldn't go anywhere else. Definitely recommend.
We have used LPC for all our business stationery and were really impressed with the service and quality of the items we got. Would recommend highly and they were able to sort out a fantastic price (better than an online quote we had)! Thanks again guys!
I have used LPC & they're work is always to a high standard with a fast turnaround & great customer service. I have recommend them to many others.